There is something comforting about yellow cake. I am not sure exactly what does it for me, the cheerful golden color, the delicate taste? Something. It goes with everything, it is easy to make and if you are in need of a birthday cake it is always a good start. Add a deep, rich chocolate frosting and you have all that is childhood on a plate.
My mother was not much of a cook. She just didn't take any enjoyment in it. However my best friend lived across the street in the midst of a large, boisterous family. I was enchanted by the activity in that house. The smells that wafted from the kitchen, the freedom they had to do crafts in the den, or to bake cookies or whatever. I was not allowed in the kitchen for fear I would make a mess.
Amazing things appeared in that kitchen, things that I had never imagined existed. Cream puffs, eclairs, marble cakes and cookies to dip in large glasses of cold milk were displayed in their glory on table and counter. One day when I was about six I mentioned that I felt bad because it was my mother's birthday and I was not allowed to mess up the kitchen. She had not had a cake for her birthday that I could recall and I wanted her to have one.
Mrs Willett, (that was the name of this wonderful woman, and yes, if you are a Willett from Warrington, Pa. I am talking about you) immediately offered the use of her kitchen and her supervision and allowed my friend, Chris, and I to create a cake.
Now that I have 8 kids myself I understand the time sacriifice that that loving act was. I learned that I loved cooking that day and I learned that some things were much more important than a clean kitchen.
Yesterday I tested a yellow cake recipe for Cooks Illustrated. I did not care for it nearly as much as I like this one, which is a good thing because I can't post the test recipes anyway. By the way, anyone can test recipes for them and it is fun! They often have a link when they are looking for new testers. It isn't compensated of course but how cool is it to say that you have tested a recipe that you are reading in their magazine?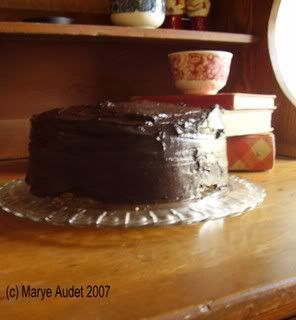 Classic Yellow Cake
1/2 cup butter
1-1/4 cups white sugar
2 eggs
2 teaspoons vanilla extract
1/2 tsp almond extract
1-1/4 cups buttermilk
1-3/4 cups all-purpose flour
1 teaspoon baking powder
1 teaspoons baking soda
Preheat oven to 350 degrees F . Grease and flour two 9″ round pans. Sift together the flour, baking powder and baking soda. Set aside. In a large bowl, cream together the butter and sugar until light and fluffy. Beat in the eggs one at a time, then stir in the vanilla. Beat in the flour mixture alternately with the buttermilk, mixing just until incorporated. Pour batter into prepared pans.
Bake in the preheated oven for 25-30 minutes, or until a toothpick inserted into the center of the cake comes out clean. Allow to cool completely.

Frosting
1/2 cup butter
4 (1 ounce) squares bittersweet chocolate
1 pound confectioners' sugar
1 teaspoon vanilla extract
3/4 cup cream
Melt chocolate and butter in the microwave, or in the top of a double boiler. In a large bowl, combine confectioners' sugar, vanilla and 1/2 cup of the cream. Blend in the melted chocolate mixture. Add remaining cream, a little at a time, until desired consistency is achieved. Let stand until spreadable . Frosting will thicken as it cools.