Banana cake doughnuts are like banana bread only better. The donuts are easy to make and they freeze well for up to six months.


This morning I decided to treat everyone to banana cake doughnuts. I used my normal recipe with some adjustments. The banana gives these a delicate banana flavor. It's not overpowering at all, just really good.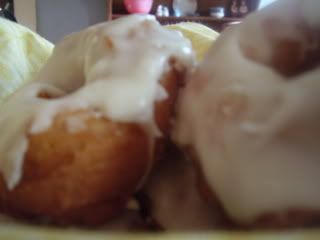 This post contains affiliate links.
The only trick to making really good doughnuts of any kind is clean oil heated to 375F and a dough that is so soft it is nearly, but not quite, impossible to work with. I  like Peanut Oil
for all of my frying because it has the highest smoking point and it doesn't leave a funny taste in fried food.
Be sure to cut straight through the dough when you are cutting out the donuts. Don't twist the cutter or they will not rise as high while frying..
Another important aspect of making perfect donuts is to have the oil at a constant temperature. You can do this by very carefully watching the pan on the stove with a frying thermometer in it or you can get an electric deep fryer
. I have a dual basket deep fryer by Presto and I just love it. It isn't expensive (under $50) but it isn't cheaply made, either. Mine has stood up to all of my cooking and I have been very happy with it.
You can freeze donuts in the freezer for up to six months. Don't glaze them until after you have thawed and warmed them in a 375F oven, though. They'll taste just as fresh as when you made them.
Banana Cake Doughnuts (or Donuts)
Delicately flavored homemade banana donuts are a weekend treat and are easy to make.
Serves:
3 dozen plus donut holes
Ingredients
Donuts
4 eggs beaten
⅔ cup sugar
⅓ cup buttermilk
⅓ cup unsalted butter-melted
1 teaspoon vanilla
1 teaspoon banana flavor (Frontier does a good one)
3½ cups flour
3 teaspoon baking powder
½ teaspoon baking soda
½ teaspoon salt
½ teaspoon cinnamon
½ teaspoon nutmeg
Icing
1 cup confectioners' sugar
¼ cup unsalted butter
½ teaspoon of vanilla extract
½ teaspoon of banana extract
Instructions
Donuts
Combine eggs and sugar, beat until smooth and light.
Add buttermilk, cooled butter, vanilla, and banana flavor.
Sift dry ingredients.
Add the dry ingredients to the egg mixture and beat until smooth.
Chill the dough for an hour if possible - it makes it easier to work with.
Roll out about ⅓ inch thick.
Cut with floured cutter.
Let stand about 10 minutes.
Drop doughnuts in 375F oil.
Fry only a couple at a time.
Turn when one side is golden.
Fry until done.
Drain and place on absorbent surface.
Glaze while still warm.
Icing
Mix thoroughly and ad a little buttermilk to thin if needed or add more confectioners to thicken.
Nutrition Information
Serving size:
Carbs: 16.7
Calories:
107
Fat:
3.6
If you liked Banana Cake Doughnuts you may also like:
Dough Boy Donuts from 1917 Restless Chipotle
Gingerbread Donuts from Scratch Restless Chipotle
Maple Glazed Vanilla Bean Donuts Sugary and Buttery
Homemade Cronuts Dinner with Julie
Please share!
0
19
0
0
0
0
0