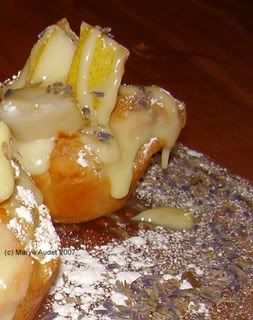 This was the second time I could participate in The Leftover Queen's Food Joust. Last month I was the ne that picked the ingredients so I stayed out of the competition.
This month's ingredients were: Lavender, pears, and white chocolate. The minute I read them I was thinking puff pastry. and creme anglais. Today after church I came home and put the dessert together. AT this moment in time there is not one crumb left. Not one. It was an amazing combination, and I hope you will try it. If you use the frozen puff pastry sheets rather than making your own it goes together pretty quickly. This is all in all, a quickly done, simple dessert that is very impressive. To me that is always a perfect combination!
The excellence of the dessert does rest on getting very, perfectly, ripe pears. I had bartlett available to me but d'anjou would be beautiful, and seckle would be incredible.
You can see the other entries in this competition and vote for the one you like best (voting is on October 1) at Royal Foodie Joust
1 box puff pastry sheets, thawed
Cut 12 equal squares from the puff pastry, making 9 on the first sheet, and 3 on the second. Fit the squares into muffin cups and bake at 400 F for about 12 minutes or until puffed and golden. Cool.
Lavender Creme Anglaise
2 c half and half
6 large egg yolks
5 tablespoons sugar
1/4 teaspoon vanilla
2 tbs freshly grated lemon peel
2 tbs food grade lavender flowers
1 tbs butter
put half and half in a pan and add lavendar. Bring just to a boil, but not boiling, remove from heat and let steep about 10 minutes. Strain.
In a bowl beat together the yolks and the sugar until mixture is light and forms a ribbon when the beater is lifted. Add the hot half-and-half , in a stream, stirring. Add lemon peel. Transfer the custard to a heavy saucepan, and cook it over moderately low heat, stirring, until it thickens, but do not let it boil. Remove the pan from the heat and stir in the vanilla and butter. Strain the custard through a fine sieve into a metal bowl set in a bowl of ice, let it cool, stirring occasionally, and chill it, covered. Can be made one day ahead.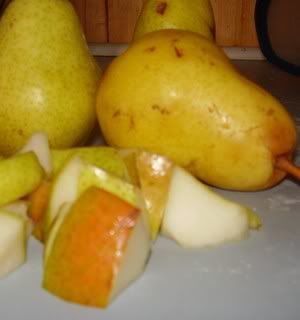 Topping:
3-4 very ripe pears
6 oz premium white chocolate
Core and chop pears in small chunks, leaving peel on. Fill the puff pastry with the creme anglaise, add chopped pear to the top. Melt white chocolate. Drizzle with melted white chocolate. Sprinkle with lavender for color.
12 servings.
Love this? Please share!
You may also like: