Our weekend is a little different than most. Since Marc works retail he works on Saturday and then has Sunday and Monday off. Sunday is really not a day off because there is church a good portion of the day.  Monday is our more leisurely day, although I don't know if leisurely is a word that can be applied to ANY day around here.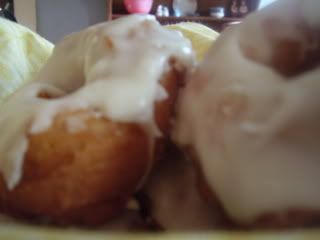 This morning I decided to treat everyone to doughnuts. I used my normal recipe with some adjustments and these were really good. The kids said they tasted like that candy, Circus Peanuts, but I don't think so.
   Do you spell it donut or doughnut? Both are correct but I am seeing the first spelling more and more! Donut,doughnut…as long as they taste great who cares?
  The only trick to making really good doughnuts is a clean oil, temp 375F, and a dough that is so soft it is nearly, but not quite, impossible to work. Oh! And cut straight through the dough, twisting deflates it some even though it is not yeast risen.


 Banana Cake Doughnuts
      about 3 dozen plus doughnut holes (or donut holes if you are making donuts)
4 eggs beaten
2/3 c sugar
1/3 c buttermilk
1/3 c butter-melted
1 tsp vanilla
1 tsp banana flavor (Frontier does a good one)
3 1/2 c flour
3 tsp baking powder
1/2 tsp baking soda
1/2 tsp salt
1/2 tsp cinnamon
1/2 tsp nutmeg (FRESHLY GRATED!!!)
Combine eggs and sugar, beat until smooth and light. Add  buttermilk, cooled butter, vanilla, and banana flavor.  Sift dry ingredients. Add egg mixture and beat until smooth. Chill ( don't chill the dough…it does make it MUCH easier to work. I just never have time)
  Roll out about 1/3 inch thick. cut with floured cutter. Let stand about 10 minutes.
   While waiting make icing:
1 c confectioners
1/4 c butter
1/2 tsp vanilla
1/2 tsp banana
mix thoroughly and ad a little buttermilk to thin if needed or add more confectioners to thicken.
Drop doughnuts in 375 oil. Fry only a couple at a time. I have a large fryer and I do 4-5 at a time.  Turn when one side is golden.  Fry until done. Drain and place on absorbant surface (this is how I recycle my brown paper bags..) Glaze while still warm.

Love this? Please share!
You may also like: