A week or so ago I posted a recipe forgraham crackers… They are so versatile- I am having a great time with them..and so is Kyrie.
Snack foods disappear rapidly here…and with this many kids (and 4 out of 6 are boys) I can't keep buying graham crackers that look like bunnies, bears, or elves. SO I wanted to see how this recipe would work….
and….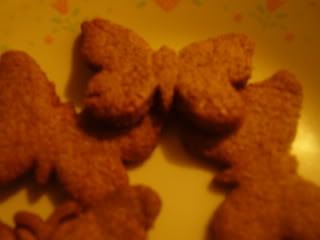 Aren't they cute? Kyrie loves butterflies. The dough needs to be chilled really well before you roll and cut it for these..and try brushing the tops with heated honey before baking. I am planning on trying other shapes but I wanted to show you these!
On that same note, animal crackers are not hard to make yourself and with some cool, small cookie cutters you can make way more than a circus…You can make a whole ecosystem if you like!
Animal Crackers
1/2 c oatmeal-blended in blender until it is a flour
2 ts honey
1/4 t salt
3/4 c flour
1/4 t soda
1/4 c unsalted butter, softened
1/4 c buttermilk
Do not grease cookie sheet. Grind 1/2 cup oatmeal in blender until fine. Add honey, salt, flour and soda. Cut in butter. Add buttermilk. Roll very thin, cut with animal shaped cookie cutters.
Bake at 400ºF until brown (10 to 12 minutes).
and if you want to make them the BEST…You need to ice them with a simple confectioners icing tinted in pastels…
Love this? Please share!
You may also like: