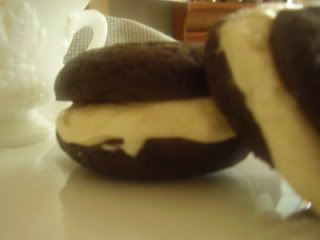 If you are a flower child you might remember these as devil dogs. I rarely see recipes for them anymore and really, it is even rarer to see someone that has taken the time and trouble to make them.
They seem more complex than they are and the results are OH! SO GOOD! Two cakey chocolate cookies with a vanilla filling that is light as air…The cookies make a great vehicle for ice cream sandwiches as well.  I have seen all kinds of variation on them…but this is the original as far as I know, and the one I grew up with. I wish I could get the picture from my camera and on to here..but if you do a google search for pictures of whoopie pies you should come up with one rather easily. I hesitate to swipe one from another site!
The filling can be a bit temperamental in hot, humid weather. If it gets runny just freeze or refrigerate for.
2 2/3 c flour
1/2 c hersheys dark cocoa powder
1 tsp baking powder
1 tsp baking soda
1 tsp salt
1 1/2 c sugar
1/2 c shortening (I use spectrum organic)
2 eggs
1/2 c sour milk
1/2 c coffee-hot
Cream Filling
Preheat oven to 350. Grease or silpat a large cookie sheet.
Combine dry ingredients.
Combine coffee and sour milk
In another bowl beat sugar and shortening until fluffy and add eggs and vanilla. Beat well. Add flour mixture and sour milk mixture alternately, beginning and ending with flour.
Drop by generous tablespoonfuls onto baking sheet, flatten slightly with wet fingers. Bake 10-12 minutes or until cookies spring back when touched lightly.
Remove and cool completely.
Cream FIlling:
In microwave safe bowl mix :
1 c milk
1/4 c flour
until no lumps remain. Microwave, stirring every minute until thick like paste. Set aside to cool completely.
In a medium bowl beat 1 c sugar, 1 tsp vanilla, 1/2 c butter and 1/2 cup shortening until mixed and fluffy. beat in cooled flour mixture and whip until light and doubled in volume, about 5 minutes. If it s hot it may not whip up exactly right but chill and and whip again. As long as it mounds on a spoon it will be fine..
Put a spoonful of the filling on the flat  bottom side of one of the cookies and top with another cookie, so that the flat parts are against the filling. Refrigerate.Dust tops with confectioners sugar before serving  if desired.
About 16 cookie sandwiches.
Love this? Please share!
You may also like: