In my shopping the other day I found a nice, slightly overripe papaya that had been marked down. I snagged it and was thinking about what I would like to use it in…the different flavors, etc. I came up with this tropical fruit tart which has a summery/vacation in the Bahamas type of flavor and is very easy and relatively quick.
The presentation is beautiful and the pastry is buttery-crumbly perfection and that holds up well out of the tart pan. The rum glaze added a faint pina colada type flavor which complimented the fruit and filling nicely. I would not add the fruit to this more than about 2 hours ahead and, as the glaze can get a bit cloudy as it chills; glaze the tart right before serving.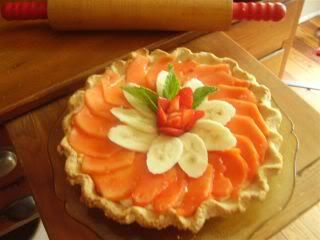 If you are making this ahead and not glazing it be sure to brush the bananas with lemon to prevent browning. This should serve 8-10 depending on the generousity of your slices.
Tropical Fruit Tart with Rum Glaze
Tart pastry
1 1/4 c flour
2 Tbs sugar
1/2 tsp salt
1/4 c butter
1/4 c organic shortening
about 4 tbs ice water
Bowl of ice water
Mix together dry ingredients.
Blend butter and shortening well and chill a few minutes in freezer.
Put fingers in bowl ice water, shake off excess water and cut butter mixture into flour mixture until it looks like coarse crumbs, keeping fingers cold by dipping into the bowl of ice water as needed.
Add the 1/4 c ice water and toss together until dough holds together well.
Turn pastry out on a floured surface and roll to size.
Place in tart or pie pan, and, using a small ball of leftover dough, press gently into pan.
Prick with fork all over.
Sprinkle with sugar and bake at 400 until golden..about 10 minutes
Set tart pastry aside to cool completely. you may remove it completely from the pan when it is cooled or finish in the pan. I removed mine.
Filling
1 lb cream cheese at room temp
1/2 c cream of coconut ( Coco Lopez)
1/3 c sugar
1 c toasted coconut
1/4 c finely chopped crystallized ginger
Beat cream cheese and cream of coconut together until fluffy.
Add sugar, beating until smooth and not grainy.
Add coconut and ginger and mix well.
Spoon into cooled crust and smooth.
May be refridgerated at this point and finished later.
Topping
1/2 ripe papaya
1 banana
1 ripe strawberry, hulled
3 mint leaves
Slice papaya thinly in a horizontal (across the narrow) direction to make petals.
Lay the papaya petals around the edge of the tart, overlapping slightly.
Slice the banana about 1/2 inch thick on a sligh diagonal.
Lay the banana slices around with tips overlapping the papaya row, just slightly.
There should be a small space in the middle of the tart at this point.
Take the strawberry and carefully with a sharp knife cut oval *petals* without cutting through the base..continue as long as you can, 4 around the outside and then some in the middle.
Gently peel back the petals to open up the strawberry flower.
Place in the center of the tart.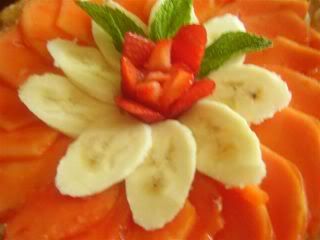 Glaze
1/3 c cream of coconut
1 tbs butter
1/4 c sugar
1/4 tsp rum extract or 1 tablespoon run
Cook first three ingredients, stirring, until sugar is no longer grainy and butter is melted.
Add extract.
Cool slightly and brush over fruit.
Garnish Tart with mint leaves before serving.
Love this? Please share!
You may also like: